have a 5 pin ezgo/ need to see how to wire my new on
Curtis E-Z-GO 36V 300A DCS Controller 1206SX-005
Status:
Open
Sep 03, 2020 - 04:20 PM
---
0
Answers
This question has not yet been answered.
View More Product Details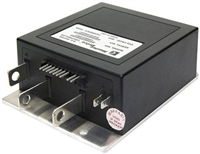 Curtis E-Z-GO 36V 300A DCS Controller 1206SX-005
Curtis E-Z-GO DCS Controllers are a few of the wide list of inventory that we have in our stock. It is a cost-effective remanufactured OEM electric motor controller. This controller can upgrade your golf carts and utility vehicles on a low budget. The motor control system is engineered to gain super...
See More
View Details
View all Curtis E-Z-GO 36V 300A DCS Controller 1206SX-005 Questions & Answers